Updated: 12/09/17 10:00 am
OUR
CHRISTMAS PARTY
IS THIS SUNDAY!!
(DEC.9TH.)

The year is almost over and it is time to renew or sign up for 2018;

your application form can be downloaded.
Scroll down to the bottom of this page,

PBR Membership Chairman George Bartunek would like you to print,
complete and mail it to him.
All needed info on the downloadable form below!
SWAP MEET INFO UPDATED!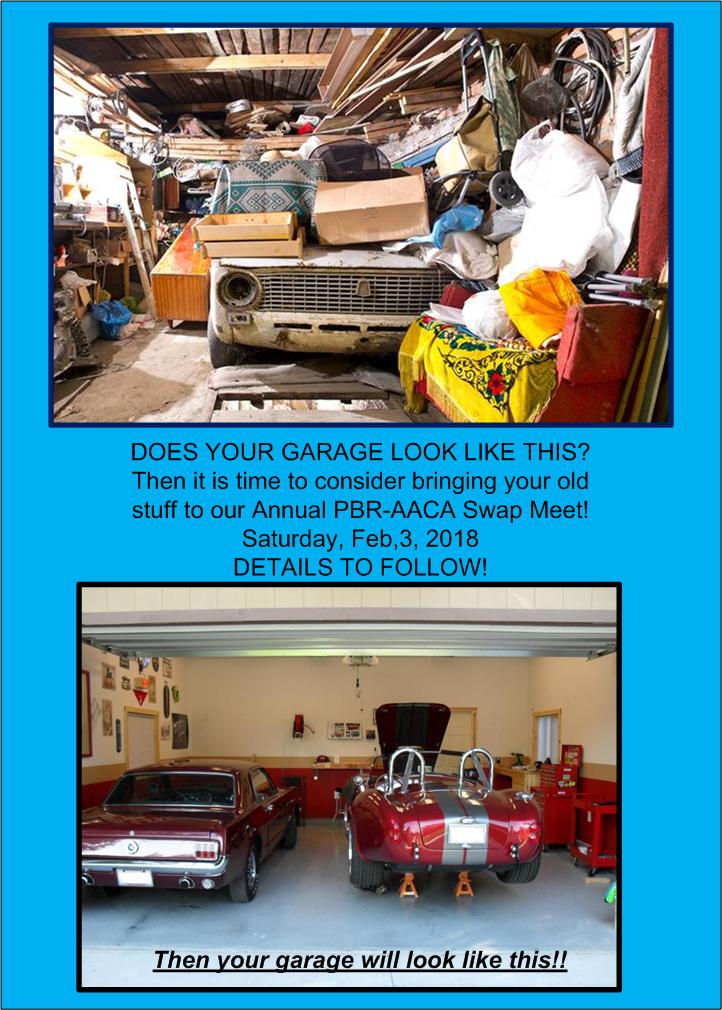 19th Annual, Heated, Indoor, Automotive Swap Meet,

Car Corral & Flea Market
Date: Saturday, Feb. 3, 2018
8 AM - 3 PM
Location:
Southold Town
Recreation Center
970 Peconic Lane
Peconic, LI, NY 11958
Sponsor:
Peconic Bay Region, AACA
Tables $30
Car Corral $20
Spectators $3
Information:
Bob Barauskas
Meet Chairman
Tel. 631-495-8619
Bob25stude@aol.com
SCROLL DOWN

FOR DOWNLOADABLE APPLICATION!

PECONIC BAY REGION CHRISTMAS PARTY!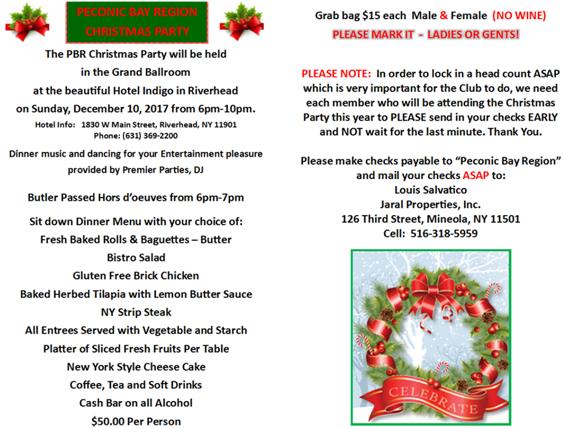 SCROLL DOWN FOR DIRECTIONS!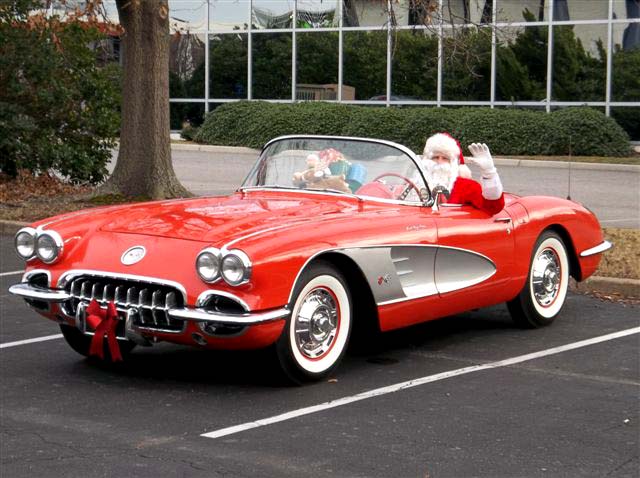 Peconic Bay Region
Antique Automobile Club of America

Dear Participants & Members:
Thanks for preparing and displaying your vehicle at our meet this year.
What a huge success, congratulations, another great meet. I agree, the weather has everything to do with your presenting to the public these fine examples of the free worlds industrial heritage. So many of the vehicles on display were show stoppers and easily would be best in show at any show that I have ever attended anywhere. I counted eighteen vehicles that made their Hallockville debut at our meet, more than ever before; too many first timers displayed to list here.
I could not keep my eyes off the black 1954 Oldsmobile 98 convertible, V8 with standard transmission. You know how when you lock on to a vehicle and can't get enough of it, black convertibles will mess up your head!
I went back to 1954 for a few hours, thanks for evoking fine memories of a misspent childhood!
For me, getting permission to "touch" that black Olds was my physical connection to my past. Uncle Al drove me
around in the front seat back in 54, forgot all about it til I saw that dashboard.
Hope you too got the "connection", it's why we display.
My thanks to all who worked so hard making our meet a resounding success, the Hallockville Farm Museum
youth program is one of my favorite.

Thanks again for the memories, looking forward to next year at Hallockville.

Please send your photos for publication to......
Blue Smoke editor Kathy Haynes: amickeyfan1@hotmail.com E-Mail link
PBRAACA webmaster, Gary Henderson: garyh611@yahoo.com E-Mail link

Regards,
John Skabry

Calendar of Events for the Remainder of 2017

29, Sun., Riverhead, NY, Hotel Indigo, Car Show, Kristen Reyes, 631-369-2200, kreyes@jaralproperties.com


November
16, Thurs., Peconic, NY, PBR Meeting 7:30 PM, Elections, Steve Shauger, Pres., sshauger@optonline.net, 631-514-9765


December
TBA Sun., Riverhead, NY, Christmas Holiday Parade, 12:45, Osborne Ave. & Main St., George Bartunek, 631-727-3097
10, Sun., Riverhead, NY, PBR Christmas Party, Hotel Indigo, Tom Laurito 631-728-2261, thomaslaurito@optonline.net

Stay advised of changes by listing your name with each event coordinator.
John Skabry, Activities Chairman, Tel. 631-734-6786, SKABRYSR@AOL.COM



We are pleased to team up with Blue Smoke

to share some featured articles on our website.

Please visit our ARTICLES Page regularly to catch up on some choice reading!

CLICK HERE TO VISIT ARTICLES PAGE

Please visit our Photos page, recently updated!
MEMBERS, send in pictures of your classics!
Congratulations to our Blue Smoke Editor Kathy Haynes upon winning the AACA Master Editor Award for 2016.

This is the eighth time she has won this award.

Thank you again Kathy for a job well done.